Take resposibility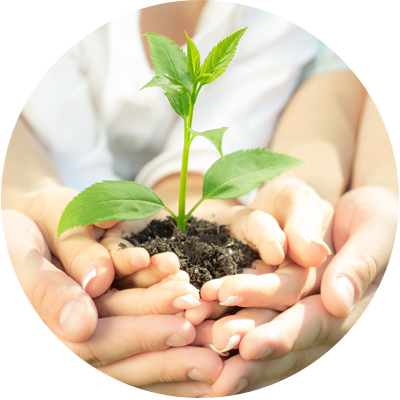 As a supplier of high-quality yarns and bobbins, we take the issue of ecology seriously and are working consistently on implementation.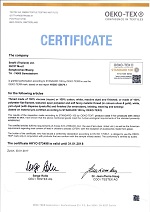 Without saying we are able to supply the ECO-Tex certification, which indicates
compliance with environmental standards.
For download of our certificate for yarns please click here
For download of our certificate for tulles please click here
Furthermore it is and will be our aim and goal to agree not only with our products to environmental standards but moreover to comply also throughout the whole production process with the best and most outstanding ecological standards.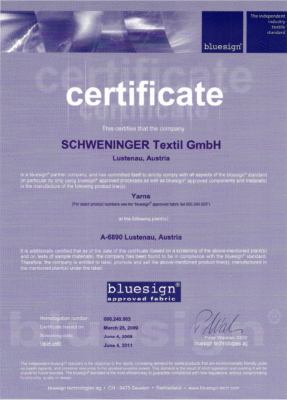 » 2009 Schweninger Textil GmbH and Setafil Thailand Ltd. have been awarded as worldwide first supplier of embroidery yarn with the BlueSign® certificate !«
For download please click here.

Bluesign® is a brand that creates the most stringent EHS criteria (consumer protection, water emissions, air emissions, occupational health and safety, resource productivity) and is pursuing a particular strategy.
Instead of examining the finished products, (resources, twisting and dyeing processes, water treatment and waste water treatment, human resources, etc.) all materials such as raw materials, dyes, auxiliaries etc. and the whole process of the production chain is included for the assessment.
Based on its eco toxicological profile (Input Stream Management) the products then are classified and receive a rating.
In 2012, we had to suspend the renewal of the certificate due to the increasing cost pressure. However, we are equally striving to evaluate our products in the future in accordance with the BlueSign ® criteria.